This has been an ongoing debate and while we have Branko's word on what the Yugos used, we still have questions as to the origins and pattern of the changes in these datum.
I am going to leave this open and trim the chatter from it. Let's keep the banter out and make this a scholarly study seeing if we can nail it down. Questions are welcome as they sometimes lead to answers.
We have the question paralleled in the "Headspace" topic which I will somehow fold into this. (I just havent figured out quite how I'm going to do that yet.)
~~~~~~~~~~~~~~~~~~~~~~~~~~~~~~~~~~~~~~
Original post...
Ok. We recently debated the shoulder angle of the 7.92x57 cartridge.
What especially concerns us here is what did the Yugos cut their chambers to. We figured they used the older 20/48 but didn't know for sure.
Branko was finally able to get back to us with an answer. (He's been right busy.)
Now you'll know which gages to use.
Here's the gen...
Now let's come to the point! Shoulder angles!
You are right. Here the older shoulder angle of 20 48' deg were in use. I attached the standard

military

GO and NO GO headspace gauges (Military, not SAAMI!!!).
GO is 46 mm in length (1.811 inches);
NO GO is 46.2 mm (1.819 inches) in length.
Both were 20 48' deg.

(''Military rules for 7.9 mm Rifles M48, M38A, M24/47 and M98/48'', DoD, Secret, TS-II, Book II, Belgrade 1962, page 23, pic. 10).
Branko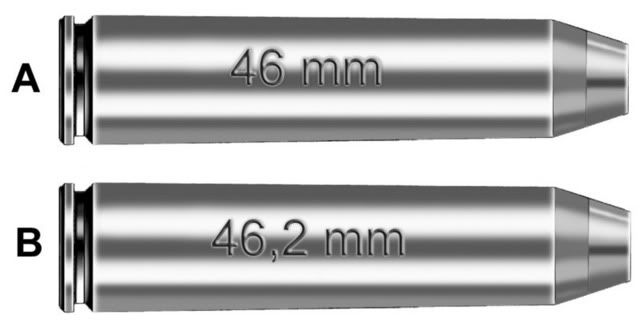 Diplomacy is the art of saying nice doggie until you can find a rock.
Will Rogers