new info 2/6...
The carbine is not confiscated. It is in the police storehouse for many years. And, this is really an ORIGINAL carbine. Possibly, this is experimental police carbine constructed just before police were armed with submachineguns M56 and semiautomatic rifles PAP M59 (like short history of Army light rifle 7,9mm M1953). Carbine is stamped, ''B'' configuration. I await new photos with details and when I get them I'll send you copies.
Branko
So now we know they were made in or after 1956.
'nug
~~~~~~~~~~~~~~~~~~~~~~~~~~~~~~~~~~~~~~
original post...
Branko sent me pics of this mystery carbine. Frankly he provided no details. He just offered as a question that it might be an experimental police carbine. Naturally I fired back a bunch of questions.
~~~~~~~~~~~~~~~~~~~~~~~~~~~~~~~~~~~~~
Got a reply to the questions already. Here's what he wrote...
This is ORIGINAL carbine manufactured in Kragujevac factory (not bubba), with standard titles on the left side - FNRJ and PREDUZECE 44. On the receiver ring is yugo coat-of-arms with M48A. Nobody in Department of Interior, Departmen of Defence and Kragujevac factory dont know nothing whereabouts this carbine!
It looks to be inspired by the M1924CK but besides the M48 stock, the front band is clearly different. As most of you know, the M1924CK just places the "H" band tight against the forward band with the sling slot. But this new carbine appears to have the "H" band modified to double as the sling slot too.
For comparison the are pics of the M1924CK, Indonesian police carbine and M48/63 export carbine
aka
Mitchell's "Tanker."
Neither is it directly related to the rare M53 experimental model mauser. (the one with the Cutt's type compensator)
In this pic, the top two are the mystery carbines and the bottom an Indonesian police type...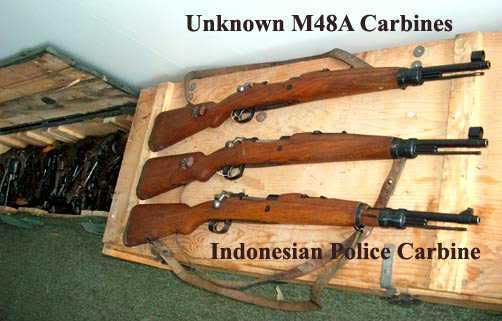 Thumbnail pics
The top one is a comparison of the new carbine front/sling band with that of the Indonesian type...
M1924CK & bayo
Zastava M48/63export carbine & Mitchell's "Tanker...(same thing)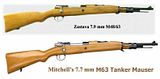 Diplomacy is the art of saying nice doggie until you can find a rock.
Will Rogers