The rifle is John Wall's and he was good enough to share some pics with us. I'm sure many will recognise his name in connection with MMOTW.
It is matching except for the bolt which came from a short rifle but is still correct. In the pic with the triggerguard and floorplate you'll note the checkered bottom flat of the bolt knob.
The stock is unstained walnut and shellaced. The finish is to all appearances original to the arm. Branko maintains that all Yugo finishes before and after the war was oil, but this and several other such finished Yugo/Serb arms contradict that. Who applied the finish or when we cannot say. Just haven't verified anything yet. We're still trying.
Anyway, here you go.
(note the royal cypher of King Peter II Karageorgevich used from 1934.)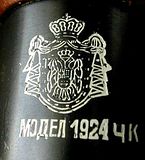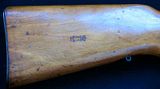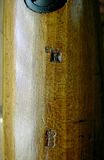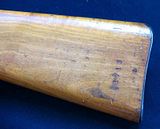 The crown-B(V) is the stamp "V" for inspector
Vlajich Damjan
. NOt sure about the upper one. Perhaps "K" for inspector
Kostich Kosta
?
Note how deeply struck the markings are...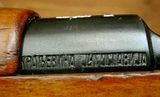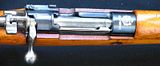 Note botton of bolt knob...
And this is very likely the type of sling it would have worn. The Yugo M1930. The sling is John's too.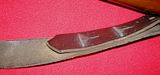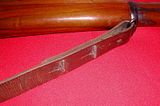 Well, that's it. Thanks again to John for sharing this seldom seen gem.
Diplomacy is the art of saying nice doggie until you can find a rock.
Will Rogers