I picked up this bayonet some 25 years ago for my "Enfield" rifle musket for reenacting. I don't remember where or how I came by it or how much I paid for it, but it wouldn't have been overmuch.
My rifle is a 1st generation Parker-Hale model of 1853. When I picked up this bayo, it was a loose fit and would wobble back and forth. I wound up spreading a layer of J.B. Weld inside the socket and sanding it through to fit. I had also cold blued the socket to look more period correct. Yeah, I know. A terrible things to do to an original item. As I said I didn't pay overmuch for it and they weren't all that uncommon or valuable then. I don't know that they are yet. I do have some older pics showing the socket beforehand. As I recall, it was pretty much a uniform patina.
In any case, I no longer reenact, too old, too fat and lame these days but hang on to this for my PH which I will not part with. I had quite a few modifications made to it to make it period correct. Prior to this, I hadn't given any thought to the markings but I have been cleaning up my bayonets and got to wondering about this one.
I don't know that it was for a P53 or not. Being over sized could have been the product of Contract manufacturing or possibly from an earlier larger bore musket?
The blade is 17" long, socket 2 7/8," outside diameter at the muzzle end 1."
Anyway, here are the pics. the pics with 2 bayos are the original with an India made repro. The one marked with the red capitol "A" is the repro. I included multiple shots of the blade markings hoping that might make the whole clearer.
The first two with red background were taken before bluing the socket. I didn't go for a hard blue-black but left it at field and use worn.
Can anybody tell me about the markings and this bayo's history?
Before bluing the socket-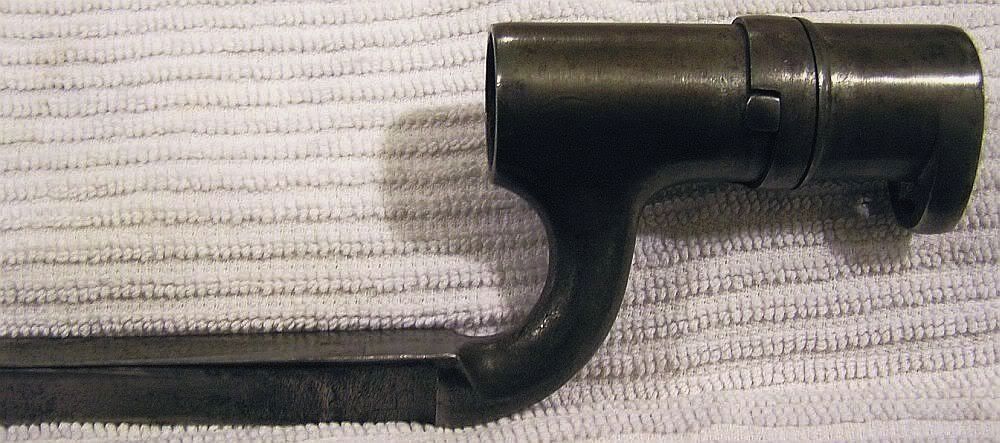 So can anybody please tell me something about this bayonet?